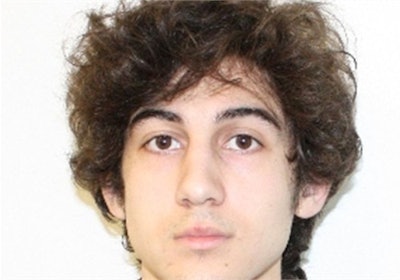 Nearly two years after two pressure-cooker bombs ripped through a crowd of unsuspecting spectators near the finish line of the 2013 Boston Marathon, a federal jury found Dzhokhar Tsarnaev guilty for his role in the deadly attacks, which killed three and injured nearly 300, reports Yahoo.
He has been found guilty of all 30 charges brought against him, including several charges that carry a possible penalty of death.
Federal prosecutors painted Tsarnaev as a heartless killer who conspired with his older brother, Tamerlan, to maim and kill Americans in retaliation for the country's wars on Muslim countries overseas. "This was a cold, calculated terrorist act. This was intentional. It was bloodthirsty. It was to make a point," government prosecutor Aloke Chakravarty told jurors Monday. "It was to tell America that 'We will not be terrorized by you anymore. We will terrorize you.'"
Tsarnaev faced 30 charges for his role in the bombings, the deadliest act of terrorism on American soil since September 11, 2001. He was also charged with shooting and killing Massachusetts Institute of Technology police officer Sean Collier days after the attacks and hours after the FBI released photos of him and his brother identifying them as suspects in the bombings. Though prosecutors acknowledged they were unsure which brother pulled the trigger, both were "equally guilty" of Collier's murder.
The verdict in the case wasn't surprising. Judy Clarke, Tsarnaev's attorney, admitted her client's role in the attacks on day one of the trial, which began March 5, and reiterated it during closing arguments this week. "There is no excuse. No one is trying to make one," Clarke told jurors Monday, calling the attack "inexcusable" and "senseless."
The same 12 jurors who decided on Tsarnaev's guilt will now decide whether he lives or dies for his role in in the attacks. Though all jurors agreed they could consider capital punishment for Tsarnaev, many people in Massachusetts oppose the death penalty for moral and religious reasons.