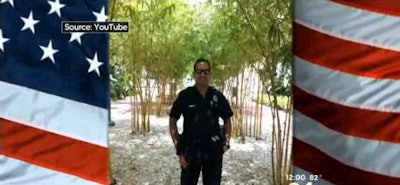 Four years ago when a driver sideswiped a Miami Beach cop on a bicycle on a busy holiday weekend, the driver was shot and killed, four innocent bystanders were wounded and the city was placed under a national microscope for its heavy-handed response.
Saturday night, during another busy holiday weekend in South Beach, a man driving a Mercedes-Benz disobeyed a bicycle cop's order and raced away, dragging him several hundred feet. This time, though, police didn't fire their weapons, the officer was the only person injured and the suspect was quickly apprehended and charged with attempted murder.
The difference may very well have been a policy put in place last year by Miami Beach Police Chief Dan Oates, which no longer permits cops to fire at moving vehicles unless someone inside fires first or displays a weapon.
ACLU of Florida Executive Director Howard Simon, often a critic of harsh police tactics, said policy change can lead to saved lives.
"Unlike the hail of bullets that ended Urban Beach Weekend a few years ago, under the revised Miami Beach policies, a suspect was captured rather than killed, and innocent bystanders were not caught — or injured — in police gunfire," he told the Miami Herald.
According to police, bike patrol Officer Eduard Alba and his squad observed a gray Mercedes and a black BMW speeding south on Collins Avenue at Ninth Street at 10:40 Saturday night. They followed for two blocks until the cars came to a stop on Seventh Street. There, three officers fell behind the BMW, which was trailing the Mercedes, and Alba approached the Mercedes.
When Alba asked Meshach Samuels, 18, for his driver's license, the arrest affidavit says he responded by saying, "I don't have one."
When Alba told him to pull over, Samuels drove up on the sidewalk as the officer reached into the vehicle to grab Samuels' arm. Then, somehow as Samuels sped west on Seventh Street, Alba was dragged for about 300 feet "before being thrown to the street and rendered unconscious." Samuels then took off, according to the report. Alba was treated for road burn and a concussion and released from the hospital on Sunday.
Later on Sunday, police found Samuels in Fort Lauderdale. He was charged with attempted murder, fleeing and eluding a police officer and leaving the scene of a crash with serious bodily injury. Oates said it was likely that Alba's bike helmet saved his life.