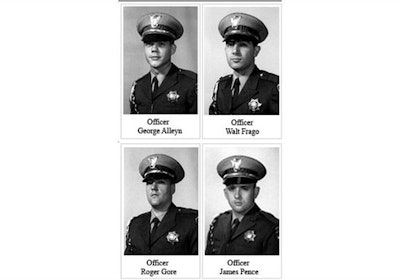 It's acknowledged as one of the bloodiest gun battles in California history.
Four young California Highway Patrol officers were killed on April 6, 1970, in a tragic standoff, now known as the "Newhall Incident." Among the fallen officers, all in their early 20s, were Walter C. Frago, Roger D. Gore, James E. Pence Jr. and George M. Alleyn.
Monday marked the 45th anniversary of the incident as CHP officials commemorate the officers statewide.
"The officers who lost their lives were very young and had families just like many of our officers do today," CHP Commissioner Joe Farrow said in a statement. "We honor the memory of the Newhall officers regularly and vow that their sacrifice and that of their loved ones will never be forgotten."
A lot has changed in the Santa Clarita Valley since then, but the memory of the fallen four still resonates with the officers of the CHP, the Santa Clarita Valley Signal reports. Their deaths led to massive reforms for the department and significantly changed how CHP operates.
Farrow said the incident "forever changed many of the CHP's officer safety policies, procedures and training regimens."
Related Articles:
Five Gunfights That Changed Law Enforcement