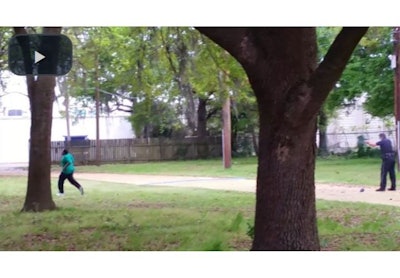 A North Charleston, S.C., police officer was arrested on a murder charge and the FBI opened a civil rights investigation Tuesday after video surfaced of the lawman shooting at a 50-year-old man as he ran away.
Walter L. Scott died Saturday after a Patrolman 1st Class shot him in the back, reports the Post and Courier.
The video footage, which The Post and Courier obtained Tuesday from a source who asked to remain anonymous, shows the end of the confrontation between the two on Saturday after Scott ran from a traffic stop. It was the first piece of evidence contradicting a statement that the officer released earlier this week through his attorney.
The U.S. Department of Justice said in a statement that FBI investigators would work with the State Law Enforcement Division, which typically investigates officer-involved shootings in South Carolina, and the state's attorney general to investigate any civil rights violations in Scott's death. North Charleston Mayor Keith Summey said during a news conference that the officer had made a "bad decision."
The video appears to show Scott slapping at the officer's hands as several objects fall to the ground. It's not clear what the objects are.
Scott starts running away. Wires from the officer's Taser stretch from Scott's clothing to the officer's hands.
With Scott more than 10 feet from the officer, the officer draws his pistol and fires seven times in rapid succession. After a brief pause, the officer fires one last time. Scott's back bows, and he falls face first to the ground near a tree. Scott died there.
At the time, Scott was wanted for arrest on a Family Court warrant, Charleston County sheriff's Maj. Eric Watson said Tuesday.