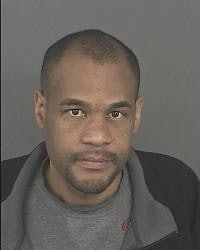 Christopher Booker, arrested Wednesday roughly four months after he drove into a group of four Denver police officers, seriously injuring one of them, appeared in court Thursday morning where he was ordered held on $50,000 bond.
Booker, 42, is being held on suspicion of first-degree assault, vehicular assault, forgery and attempt to influence a public servant. Witnesses say Booker had a "medical condition" — what appeared to be a seizure — when he struck the officers.
Mitch Morrissey, Denver's district attorney, told the Denver Post Wednesday the arrest stems from medical documents showing Booker had a history of seizures but did not disclose his condition when applying nine times for driver's licenses between 2006 and 2015.
He said his office plans to file 20 formal counts against Booker.
The bicycle officers whom Booker hit were monitoring student protesters from East High School on Dec. 3 along East Colfax Avenue near Williams Street. The collision happened during a period of student activism in the city over police actions across the country against unarmed black men.
The collision left Officer John Adsit in critical care for a month, during which he underwent 11 surgeries to repair crushed ribs, a punctured lung, a severed artery in his leg, a broken femur and a cracked pelvis. The officer's spleen was removed, and he battled internal bleeding, pneumonia, vision loss, fever and infection.
Adsit, a nine-year veteran of the department, was the only one of the four officers to be injured seriously in the collision. He was dragged for more than a dozen yards under the black Mercedes that Booker was driving.
Adsit was released from the hospital last month.