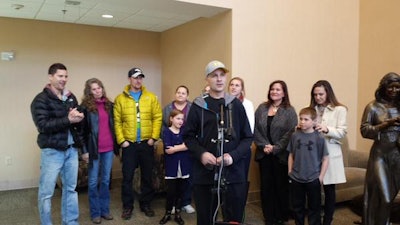 Denver Police officer John Adsit walked out of Porter Adventist Hospital and headed for home Wednesday.
Adsit, a bicycle officer, had been hospitalized since Dec. 3 after being hit by a car during an East High School protest of the Ferguson, Mo., grand jury decision, Fox 31 Denver reports. Protesters reportedly yelled "Hit him again" during the incident, which also injured three other officers.
Adsit was the only one of the four officers who was seriously injured. He was moved to the rehabilitation center of the hospital on Friday after nearly two months in the hospital and a dozen surgeries.
A statement from the Adsit family read:
The family of Officer John Adsit is excited to share the incredible news that John is leaving the rehabilitation center today! After eleven weeks, it is a dream come true to know John is well enough to finally return home.
The GoFundMe page that was set up for his family to pay for medical bills has raised over $75,000 since it was created on Dec. 4.