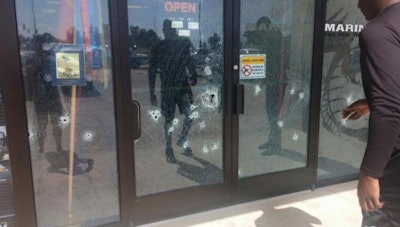 Four members of the military were killed in two attacks on military centers in separate parts of Chattanooga, Tenn., by an unknown gunman, leading to lockdowns at local hospitals as well as the Army Recruiting Center on Lee highway and the Naval and Marine Reserve Center at the Chattanooga Riverpark, where shots were fired, reports the Times Free Press.
The shooter, described by witnesses as a white man driving a silver Ford Mustang convertible, began firing shots at 10:45 am. at the Lee Highway recruiting center, then led police on a chase to the Amnicola Highway location, where further shots were fired.
At least four Marines were killed and one police officer was shot in the attacks at Amnicola Highway. Witnesses said a victim was shot in the leg at Lee Highway. The officer and two other victims reportedly had non-life-threatening injuries.
Officials have said a shooter is dead and this is no longer an active shooting situation.
Tennessee Gov. Bill Haslam called the situation a "tragedy" and "sickening," confirming that lives were lost. The Governor's mansion, along with many other sensitive facilities in the region, was put on lockdown immediately following the shootings.
U.S. Attorney Bill Killian said he would treat the violence as an "act of domestic terrorism."