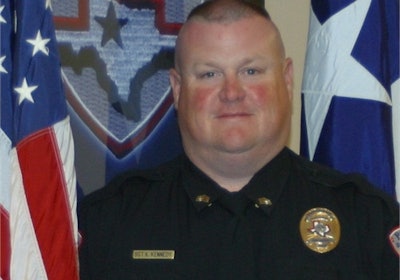 Sgt. Korby Kennedy, a San Angelo, Texas, police officer for nearly 20 years, died after an SUV crashed into his motorcycle on Knickerbocker Road, Police Chief Tim Vasquez said in a somber and tearful news conference Thursday evening.
Kennedy was part of an escort from Lake Nasworthy to Twin Peaks restaurant for boats participating in this weekend's Showdown in San Angelo Drag Boat Races, reports the San Angelo Standard Times.
About 6:06 p.m. a Nissan Rogue SUV pulled out of a private parking lot and collided with Kennedy's SAPD motorcycle near the Albert Street intersection, Vasquez said.
Kennedy was taken to Shannon Medical Center by ambulance, escorted by six patrol units, but died of his injuries. The driver and passenger in the SUV were said to suffer minor injuries.
Before the news conference Vasquez spoke to police staff, asking them to "remember why we do what we do" and to honor Kennedy by doing their job "nobly and with professionalism as Korby did."