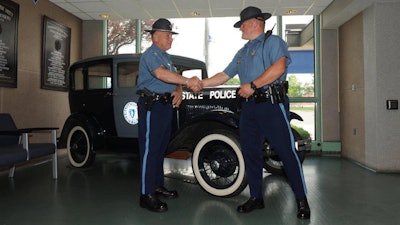 When state trooper Al Balestra met Philip Kucha — the 10-month-old baby boy he helped save more than 30 years ago — he didn't just shake hands with the man. He shook hands with trooper Kucha, wearing the same uniform.
Their paths first crossed on Oct. 18, 1983.
Kucha, not even a year old, was in his car seat, riding with his mom and dad to Logan 
International Airport to pick up his grandfather. Traffic was heavy as the Burlington family exited the tunnel. Kucha began having convulsions, his eyes rolling into the back of his head, the Boston Herald reports.
The couple spotted a state police cruiser and pulled over.
Balestra and trooper Stephen O'Brien sprang into action. They called for an ambulance, but it got stuck in tunnel traffic. The baby's condition was worsening.
Balestra put the baby boy and his mother into the back of the cruiser with O'Brien, turned on the siren and lights and raced to Massachusetts General Hospital.
Now 32, Philip Kucha served in the National Guard in Iraq and Afghanistan. He became a Belmont cop, and then a statie in May 2014. A few months ago, his mother came across the old letter and showed it to him.
Kucha thanked Balestra. And the veteran trooper gave the new guy some advice: Always treat the people you deal with "like they are your family members."