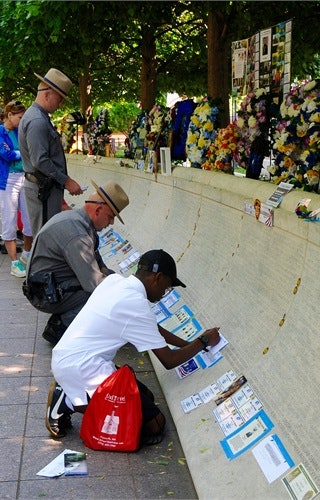 Former U.S. Rep. Mario Biaggi, the New York City police legend who founded the National Law Enforcement Officers Memorial Fund (NLEOMF) in 1984, died at his Bronx home yesterday at the age of 97.
Biaggi joined the New York City Police Department in 1942 and went on to serve with great distinction for 23 years. At the time of his retirement and for many years later, he was the most decorated police officer in New York City history. In his 23 years on the police force, Biaggi was injured 10 times in the line of duty, and he received 28 heroism commendations, including the Police Medal of Honor for Valor—the department's highest award, given for extreme acts of courage. He retired in 1965 as a detective lieutenant.
In 1968, Biaggi was elected to serve in the United States Congress, where for the next 20 years he was law enforcement's most vocal and effective voice on Capitol Hill. In 1984, Biaggi formed the NLEOMF and his legislation to have a national monument built in honor of America's law enforcement officers became law that same year. His dream became a reality when the memorial was dedicated in 1991. Today, the memorial stands proudly in historic Judiciary Square in Washington, D.C. and bears the names of 20,538 law enforcement officers who died in the performance of duty.
"Our nation has lost a man of great courage, compassion and achievement," said NLEOMF Chairman and CEO Craig W. Floyd, who also served as Biaggi's legislative assistant for 10 years. "Through a life devoted to public service, Congressman Biaggi touched countless lives in a very positive and meaningful way."
In 1998, received NLEOMF's Distinguished Service Award. In accepting the organization's top award, he said, "I am a recipient of an award that is extremely significant, probably the most significant award I've received in an entire lifetime of public service and law enforcement."
Biaggi was once dubbed "New York's best service congressman" by New York magazine and his legislative achievements on behalf of the elderly, children, law enforcement officers, and many others were remarkable. Yet, when asked later in life what would be his legacy, he said, "Your legacy is your family." Biaggi is survived by his four children, Barbara, Jacqueline, Richard and Mario II, as well as 11 grandchildren and four great grandchildren.
About the National Law Enforcement Officers Memorial Fund
Established in 1984, the National Law Enforcement Officers Memorial Fund (NLEOMF) is a private non-profit organization dedicated to telling the story of American law enforcement and making it safer for those who serve. NLEOMF maintains the National Law Enforcement Officers Memorial in Washington, D.C., which contains the names of 20,538 officers who have died in the line of duty throughout U.S. history. NLEOMF is now working to create the National Law Enforcement Museum, which will tell the story of American law enforcement through high-tech, interactive exhibitions, historical artifacts and extensive educational programming. For more information, visit www.LawMemorial.org.