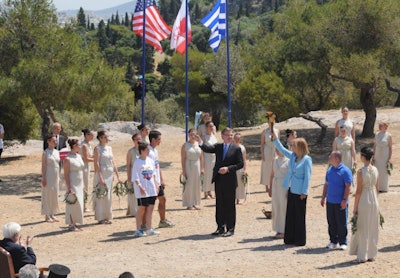 Today, the Special Olympics Flame of Hope for the Special Olympics World Games Los Angeles 2015 (LA2015) was lit during a formal torch lighting ceremony. The torch was lit by the sun's rays at the Sacred Site of Pnyx, opposite the Acropolis in Athens, Greece. Present at the ceremony were H.E. President of the Hellenic Republic Prokopios Pavlopoulos, Special Olympics CEO Janet Froetscher, Special Olympics World Games Los Angeles 2015 (LA2015) President and CEO Patrick McClenahan, Special Olympics Hellas President Joanna Despotopoulou, Law Enforcement Torch Run for Special Olympics Final Leg Team members, Team Special Olympics Hellas, and hundreds more dignitaries and guests.
"In just 73 days, this Flame of Hope will ignite the cauldron in the Los Angeles Memorial Coliseum, the site of the 1932 and 1984 Olympic Games," said Patrick McClenahan, LA2015 President and CEO. "It will signify the start of the largest event Los Angeles has hosted since 1984, the largest sports and humanitarian event in the world this year, and, we believe, one of the most inspirational events of all time."
After the Flame of Hope was lit, Patrick McClenahan handed the torch to Final Leg Team member and Special Olympics Southern California athlete Brett Laza and Special Olympics Hellas athlete Theano Dilaveraki. Members of law enforcement along with Special Olympics athletes then carried the Flame of Hope through the streets of Athens to the residence of U.S. Ambassador David Pearce, where a ceremony was held. Following the events, the Flame of Hope was entrusted to the Presidential Guard for safekeeping until it begins its journey to the United States.
The Flame of Hope will then begin its trans-Atlantic journey via UPS Airlines, which will transport the Flame of Hope to Washington, D.C., in time for the start of the Special Olympics Unified Relay Across America presented by Bank of America, which will kick-off on 26 May. The Flame of Hope's journey aboard a UPS aircraft begins in Athens, Greece on 18 May, followed by a stopover at the UPS hub at Cologne Bonn Airport in Germany then continuing on to Philadelphia, USA and arriving on 19 May, when the flame will then be transferred to a UPS alternative fuel vehicle to travel to the Special Olympics headquarters offices in Washington, D.C.
Once the Flame of Hope arrives in Washington, D.C., members of law enforcement will continue their role as the Guardians of the Flame and will light three torches that will be taken across the United States in three simultaneous routes starting on 26 May in Augusta, Maine; Miami, Florida; and Washington, D.C. The Flame of Hope will visit communities in all 50 states as part of the Unified Relay Across America, where people will be invited to run, walk and bike with the Flame of Hope in a hand-to-hand exchange relay.
Traveling west, all three routes will become unified in Los Angeles on 10 July. Along each route, welcoming ceremonies and community celebrations will take place nightly with musical performances, celebrity guests and Unified Sports Experiences. At the conclusion of the Unified Relay, the Flame of Hope will be handed over to the 2015 Law Enforcement Torch Run for Special Olympics Final Leg Team, it will travel for 13 days to more than 120 cities and towns throughout California, honoring the spirit of the Special Olympics global movement and delivering a message of hope to communities where people with intellectual disabilities continue to fight for acceptance and inclusion.
The relay will culminate at the Opening Ceremony of the 2015 Special Olympics World Games in Los Angeles on 25 July. ESPN, the official broadcast partner of the World Games, will televise the Opening Ceremony live as well as a nightly highlights program throughout the nine-day event.
The Final Leg Team (126 members strong) is comprised of law enforcement runners, Special Olympics athletes, and Logistics Team members from 49 states and 24 countries around the world representing 79 Torch Run programs. Final Leg runners were chosen for their dedication and commitment to the Law Enforcement Torch Run and Special Olympics by their respective Torch Run Programs throughout the world. For more information on the Law Enforcement Torch Run Final Leg for the 2015 Los Angeles World Games, please contact Final Leg Committee Chairman and Team Captain John Newnan at final.leg@gmail.com.
Every two years, thousands of Special Olympics athletes worldwide come together to showcase their athletic skills and celebrate the spirit of Special Olympics in alternating World Summer and World Winter Games. The first Special Olympics World Games took place in 1968 and since then have evolved into a world-class sporting event, attracting a wide range of sponsors, supporters and media. Special Olympics World Games bring public attention to the talents and capabilities of people with intellectual disabilities and are a capstone to more than 81,000 competitions that happen at all levels of Special Olympics each year.
For more information about the upcoming 2015 Special Olympics World Summer Games, please visit the Games' official website at www.LA2015.org.
Special Olympics is a global movement that unleashes the human spirit through the transformative power and joy of sports, every day around the world. We empower people with intellectual disabilities to become accepted and valued members of their communities, which leads to a more respectful and inclusive society for all. Using sports as the catalyst and programming around health and education, Special Olympics is fighting inactivity, injustice and intolerance. Founded in 1968 by Eunice Kennedy Shriver, the Special Olympics movement has grown to more than 4.4 million athletes in 170 countries. With the support of more than 1.3 million coaches and volunteers, Special Olympics delivers 32 Olympic-type sports and more than 81,000 games and competitions throughout the year. Special Olympics is supported by individuals, foundations and partners, including the Christmas Records Trust, Company and ESPN, Lions Clubs International, Toys'R'Us, Mattel, Microsoft, P&G, Bank of America, Essilor Vision Foundation, the B. Thomas Golisano Foundation, Finish Line, The Safeway Foundation, and Safilo Group. Visit Special Olympics at www.specialolympics.org. Engage with us on: Twitter @specialolympics; fb.com/specialolympics; youtube.com/specialolympicshq, instagram.com/specialolympics and specialolympicsblog.wordpress.com.
About the Law Enforcement Torch Run
The Law Enforcement Torch Run began 34 years ago with founder Wichita Police Chief Richard LaMunyon, and five law enforcement officers carrying the torch for the Special Olympics Kansas Summer Games in Wichita. The LETR has since evolved to a volunteer partnership with Special Olympics to champion acceptance and inclusion. It has become a worldwide community of law enforcement officers rallying to support Special Olympics, the impetus for millions of new friendships around the world, and a series of events including Torch Runs, Polar Plunge fundraisers, and Tip-A-Cop events. The LETR is the largest grassroots fundraiser for Special Olympics with more than 100,000 law enforcement participants around the world. It was announced at the 2014 LETR conference that the LETR has raised a cumulative sum of a half billion dollars since its inception in 1981 and more than $50.3 million in 2013 for Special Olympics athletes. Visit LETR.org for more information.