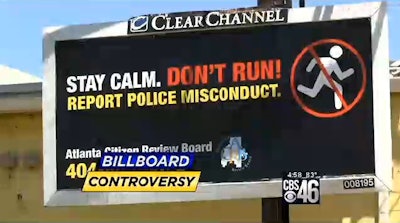 Atlanta City Council members chastised a city public-safety board for erecting billboards advising "Don't Run" from cops, prompting the board to suspend what it deemed a common-sense advertising campaign
"To me it seems like we are saying people are doing something wrong by running," said Councilwoman Keisha Lance Bottoms at the public safety committee meeting Tuesday. "One of the things I will always teach my children is that they have the right to run. It may be ill advised but the issue is not with them exercising their rights but the response to them exercising their rights."
The rebuke seemed to leave Lee Reid, executive director of the Atlanta Citizens Review board, stunned and flabbergasted. By the end of the meeting, Reid agreed to suspend the advertising campaign that had gone up on over 20 billboards in southwest, southeast and northwest Atlanta.
The board is funded by the City Council and is charged with investigating citizen complaints against the police, the Atlanta Journal-Constitution.
Reid, who heads a board that more often clashes with cops in misconduct cases, explained the message was a common-sense one not to exacerbate encounters with police by running — even if the police weren't in the right
If the police stop was harassment, it was better to cooperate and then file a complaint with the police and the board, Reid said.
The ads were placed on Monday, CBS 46 TV reports.