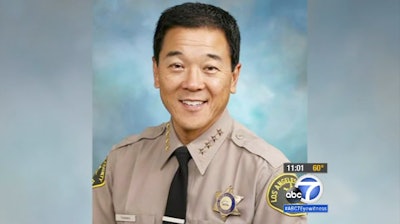 Former Los Angeles County Undersheriff Paul Tanaka and a second high-ranking officer in the Sheriff's Department orchestrated a plot to obstruct a federal investigation into excessive force and corruption in the county's jails, according to a federal grand jury indictment.
The indictment outlines a litany of orders Tanaka and former Capt. William "Tom" Carey allegedly gave in the summer of 2011 to sheriff's deputies working to conceal from FBI agents the whereabouts of an inmate the FBI was using as an informant.
Tanaka and Carey face charges of conspiracy and obstruction of justice. In addition, Carey is accused of giving false testimony during last year's corruption trials of lower-ranking sheriff's officials.
Tanaka, who is now the mayor of Gardena, Calif., and Carey surrendered to authorities Thursday in response to the federal grand jury indictment, the Los Angeles Times reports.
The charges against Tanaka are "baseless" and he plans to "aggressively defend" himself in court, his attorney, H. Dean Steward, said in a statement.
"At all times, Mr. Tanaka dedicated himself to serving the residents of Los Angeles County honorably, ethically and legally," said Steward. "After all the facts come to light, we are confident he will be exonerated of any wrongdoing."
Carey could not be reached for comment.
Tanaka and Carey are the eighth and ninth LASD officials to face criminal charges stemming from actions taken in the summer of 2011 when inmate-turned-FBI informant Anthony Brown was hidden from his FBI handlers.
In a complex scheme that became known as "Operation Pandora's Box," Brown was booked and re-booked under a series of false names, moved to multiple locations and eventually told by LASD officials that the FBI had abandoned him, KABC TV reports.
Seven now-former LASD deputies, sergeants and lieutenants were convicted last year for their roles in the operation. All seven argued they were only following orders from their superiors in what they believed to be a legitimate law enforcement investigation into how and why a contraband cell phone got into the jail.
Tanaka retired from the Sheriff's Department in 2013. He ran to replace long-serving Sheriff Lee Baca but was beaten by a wide margin by then-Long Beach Police Chief Jim McDonnell.