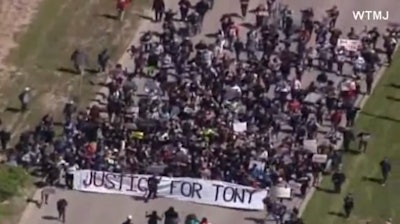 After a peaceful procession from the apartment house where a Madison, Wis., police officer killed 19-year-old Tony Robinson on March 6 through the streets of the state capital to the Dane County Courthouse, some 150 to 200 protesters looked on as others laid out the case for why Kenny should stand trial.
"Was Tony Robinson murdered and should [the officer] be charged with homicide?" Alix Shabazz, one of the event's organizers, shouted to her fellow protesters.
The crowd gave its rousing approval, the Associated Press reports.
Madison Mayor Paul Soglin had warned that anyone who broke the law would be arrested. At the end of the event, police arrested some two dozen protesters who locked arms and blocked an intersection near the courthouse. As the police were detaining those protesters, onlookers hurled insults at the officers, including racial epithets.