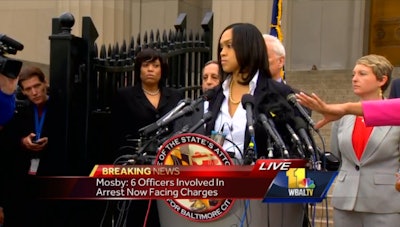 The Baltimore City State's Attorney Marilyn Mosby announced this morning that the death of Freddie Gray was a homicide and her office is charging six police officers. She also said the arrest of Gray was not justified.
The Baltimore Sun reports the officer who was the driver of a police van that carried Gray through the streets of Baltimore, was charged with second-degree murder, assault, manslaughter, misconduct and other charges.
A female sergeant faces charges of manslaughter and involuntary manslaughter.
Two other officers were charged with involuntary manslaughter.
Two other officers were charged with assault and misconduct.
A warrant has been issued for the arrests of the officers, WBAL TV reports.
Gray, 25, was chased down and arrested by Baltimore officers on April 12 and died a week later. His family has said he suffered a spinal cord injury and a crushed voice box.
On Thursday, Baltimore City police submitted to the prosecutor its investigation into the Gray case. No details of the report were made available to the public. Mosby said her office began its own investigation, reviewing evidence and interviewing witnesses, the day after Gray's arrest.
"What we received yesterday from the Police Department, we already had," Mosby said.
The Fraternal Order of Police released an open letter to the prosecutor, saying: "Each of the officers involved is sincerely saddened by Mr. Gray's passing." The FOP is asking Mosby to appoint a special independent prosecutor, citing conflicts of interest.