VIDEO: Louisiana Trooper Shot in Head by Drunk Driver
A Louisiana trooper died Monday after he was shot Sunday by an apparently stranded motorist who stood over the officer and told him afterward, "You're lucky — you're going to die soon," state police said.
Police video showed Senior Trooper Steven Vincent, a 13-year state police veteran in southwest Louisiana and member of a law enforcement family, trying to talk a man out of the vehicle stuck sideways in a ditch, Col. Mike Edmonson told the Associated Press Sunday night.
He said the truck door opened and the man, identified as Kevin Daigle, 54, of Lake Charles, came out with the shotgun.
At least two or three buckshot pellets hit Vincent, doing major damage. "His brain is not telling his body what to do," Edmonson said.
Police say two or three drivers stopped immediately, one of them slewing around on the two-lane highway.
That driver wrestled the shotgun away from Daigle, and, with the others, got him to the ground, and snapped Vincent's handcuffs on his wrists, Edmonson said. As far as he knew, he said, the good Samaritans were unhurt.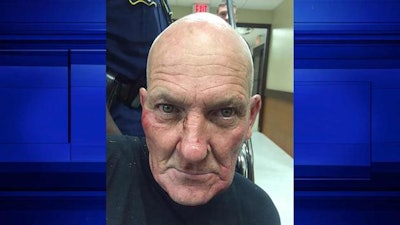 Edmonson said Daigle had "numerous DWIs" and other arrests that he wouldn't discuss because he didn't know whether they resulted in convictions. Daigle faces charges including attempted first-degree murder of a police officer, Edmonson said.