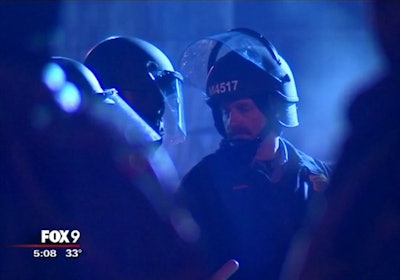 VIDEO: Minneapolis Political Leaders Ask Anti-Police Protesters to Voluntarily Leave Precinct
Minneapolis Mayor Betsy Hodges and Rep. Keith Ellison (D-MN) are calling for protesters of Jamar Clark's shooting to leave the 4th Precinct, saying it is now a safety risk. Mayor Hodges said police officers are getting daily threats and the area has become a hazard for the public.
The mayor said there is no deadline to remove the occupation of the 4th Precinct -- that they are asking people to leave voluntarily, KMSP TV reports.
Speaking at a news conference Monday at the Farview Recreation Center, Hodges emphasized that the city has met the demands of Black Lives Matter Minneapolis. Those demands include an independent investigation and the release of the officers' names. While the mayor wants to clear the 4th Precinct of protesters, she stressed that she wants to keep lines of communication open.
Jamar Clark, 24, was fatally shot by Minneapolis police on Nov. 15. Demonstrators, organized by Black Lives Matter Minneapolis, have been camping out at the Minneapolis Police Department's 4th Precinct ever since.