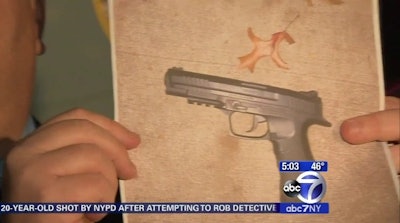 VIDEO: Suspect Shot Trying to Rob Plainclothes NYPD Detective
Police are still searching for another suspect after a 20-year-old man was shot by police while attempting to rob a plainclothes detective in the Bedford-Stuyvesant neighborhood of New York City on Sunday, authorities say.
Police say three detectives were investigating a robbery. One was about to make an arrest, with the two others in a car with the victim.
According to NYPD Chief of Detectives, several individuals approached the detective on the street and tried to rob him of his cell phone at gun point.
As he pulled out the phone, the detective also pulled a gun and shot the suspect, Boyce said. The detective's bullets hit the man in the right arm and torso.
The gun in the robbery turned out to be a BB gun. Police say the suspects have used the gun as part of a pattern of at least four robberies since September, NBC News reports.