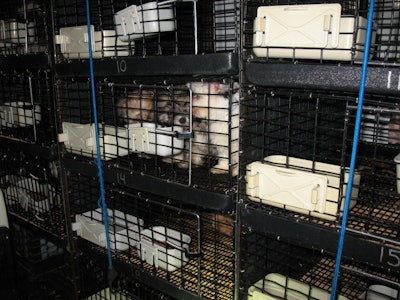 Paramus, NJ, police overnight Monday found 67 puppies packed into small metal crates in a van parked behind a pet store owned by a businessman already facing animal cruelty charges.
Police Officers Daniel Derienzo and Matthew Lombardo were patrolling the area around 3 a.m. when they "heard crying and whining coming from inside" the white 2002 Freightliner Sprinter parked outside of the regular parking stalls at Just Pups, Paramus Police Chief Kenneth Ehrenberg said.
Inside, they found crates holding two to four puppies each. All were alive, the chief told the Paramus Daily Voice.
"The temperature inside the van was 38 degrees Fahrenheit and the outside temperature was 35 degrees," Ehrenberg said.
"The officers also observed that the crates were too small for some of the dogs who could not stand up inside of them. Some of the crates also did not contain food or water and some of the dogs were covered in feces."
Last month, the New Jersey Society for the Prevention of Cruelty to Animals filed 267 animal cruelty charges against the owner of the van.