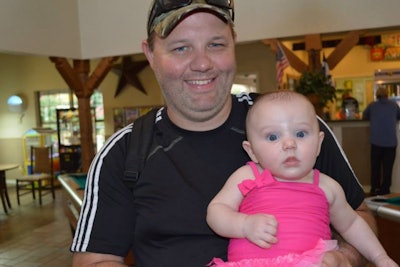 A Fort Worth police officer hospitalized from a shooting that left him critically wounded is making progress in his recovery, according to the latest update posted online.
Fort Worth police officer Matt Pearce has been able to sit up and use a walker to move to a chair, the update said.
Officers were trying to arrest Ed McIver Sr. March 15 on aggravated assault charges and for jumping bail when gunfire broke out as he fled with his adult son. McIver Sr. was killed by police. Pearce was shot multiple times, NBC DFW reports.
Pearce's GoFundMe page has collected more than $85,000 in donations toward his recovery. The full update on Pearce's page said the following:
Update: Today has been a great day. Matt was able to move to a chair with a walker and sit up for much of the day. They cleared him to eat a soft diet with thickened liquids. He ate a little and drank a LOT (he's been begging to drink for several days) but then started throwing up. Baby steps Matt Pearce! Great news though! He's done well weaning off oxygen and is on a regular nasal cannula only!! I'm certain being able to get up out of bed has helped immensely! More good news! His labs are showing his kidneys are FINALLY recovering. What this means is that he may now be ready to undergo a scan to gather more information about his damaged aorta. This is where I try to overcome fear. They've told me they are certain there is an injury there. The information they gather from this scan will determine whether they treat him here, or send him to Houston for evaluation. This is where God could show his power in a big way. Please pray with me that Matt's aorta is healed somehow. This will be my prayer until told otherwise. You see I've been told that God will show his power when no man can take credit. Well, if Matt's aorta is healed, absolutely no man could take credit for that, it would be purely the hand of God. So let's pray! Other specific requests: That his lungs continue to improve! They are doing so good don't stop! Also please pray for sleep! Since coming off so much pain and sedation medication, Matt is not sleeping. All of this in addition to being in a hospital room night and day is making him loopy. Please pray good rest and recovery for his mind and body. Please keep praying for his protection from infection. His body has been in survival mode for so long he is susceptible to infection. And last but not least, pray for his stomach to be able to tolerate the food he needs. This has improved, but he still needs to be able to take more in without getting sick.
Thank you prayer warriors! We will see victory!!