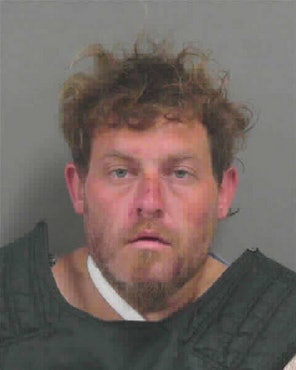 When he stepped out of his mother's shower and opened the bathroom door Sunday night, police say, James Adam Sherlin found four members of the Catoosa County (GA) Sheriff's Office and a state trooper staring at him, reports the Chattanooga Times/Free Press.
He tried to retreat to the safety of the bathroom. But as he shut the door behind him, law enforcement barged forward, forcing themselves inside. Sheriff Gary Sisk said Deputy Keith Cantrell tackled Sherlin, and the two men wrestled in the shower.
There, where he had just cleaned himself, Sherlin kept a .22-caliber pistol.
"There was water in the tub," Sisk said. "They were scrambling for the gun. Sherlin got a hold of it."
During a news conference Monday morning, the sheriff said he was not sure exactly where the two men's hands were during their fight, but Cantrell and Sherlin were both face down. Cantrell was on top. Another deputy deployed a Taser, but the fight continued. Sherlin had reached for his gun, and Cantrell's hands were almost on top of the pistol, as well.
Sherlin, 29, reached back and fired. He sliced Cantrell's left ring finger, Sisk said, but the bullet also hit the shooter, just below his own left arm.
Other deputies then handcuffed Sherlin, who tried kicking himself free to no avail. They took him to Hamilton Medical Center in Dalton, where doctors treated him and sent him back to jail. Cantrell, meanwhile, went to Erlanger Health System. Doctors there treated him and sent him home.