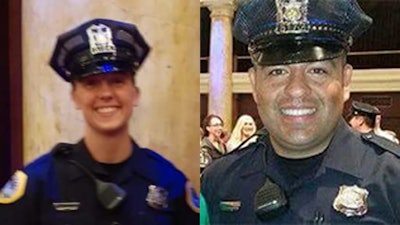 Des Moines, IA, Officers Susan Farrell, 30, and Carlos Puente-Morales, 34, were killed while driving east on Interstate 80 at 12:40 a.m. Saturday, returning a prisoner from Council Bluffs to the capital city, according to a news release. Another vehicle driving the wrong way struck the officers head-on near the Waukee exit at mile marker 117.
Both officers were recent additions to the Des Moines Police Department, graduating from the police academy in October 2015, reports the Des Moines Register.
The wrong-way driver, Benjamin Edward Beary, 25, died at the scene of the crash, where his Ford Taurus burst into flames, the State Medical Examiner's Office said.
The prisoner in the police car, 32-year-old Tosha Nicole Hyatt, was also killed, the Des Moines Register reports.