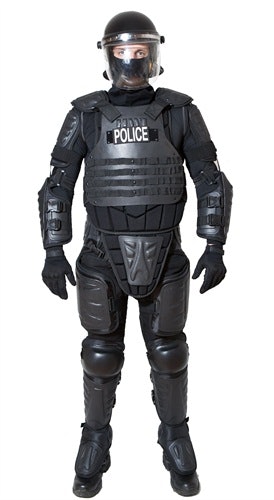 HWI has released the Elite Defender riot suit (ED100), which offers critical protection from blunt force trauma. The company says the effective and consistently reliable ED100 riot suit is easily deployed and or removed for riot control, cell extractions, or other tactical situations and doesn't sacrifice fit or comfort,
The Elite Defender Riot Suit's contour molded outer shells feature impact ridges that disperse the brunt of blows, jabs, and thrown projectiles, while foam inner padding cushions the officer's body. Soft brush and mesh line the inside to reduce abrasion and provide long-term comfort.
The sturdy PE hard shell protectors are used for covering and protecting most of the body. They are designed to withstand hard blows, and prevent penetration or stabbing by sharp tools and offer anti-fire and anti-acidity protection. The ED100 has upper body and shoulder protection, forearm protection, thigh and groin protection, and knee and shin protection. The ED100 comes with a polyester heavy duty carry bag for transport.
The Elite Defender riot suit was chosen for the 2016 Republican National Convention in Cleveland, OH, and passes the rigorous standards for our most elite law enforcement agencies in terms of quality, operational flexibility, protection area, energy absorbency, and flame resistance.
The Elite Defender riot suit features:
MOLLE webbing system on chest plate and hip guards for add-ons and storage pouchSturdy PE protective shell for blunt force trauma protectionCombination of thick BNI and EVAFoam for padding throughout suit for force absorptionSturdy Nylon and Hexagon Sandwich constructionMesh shell materialEasily donable with a system of strong buckle strapsSupplied with polyester carry bagErgonomically built to allow for full range of motionEasy to put on and take off in time critical situations
HWI says all these features combine to make some of the most effective riot scenario tactical gear available on the market for law enforcement departments and professionals.
HWI sells a full range of gloves, including Hard Knuckle Tactical Gloves, which can be worn with the riot suit for more blunt force protection.