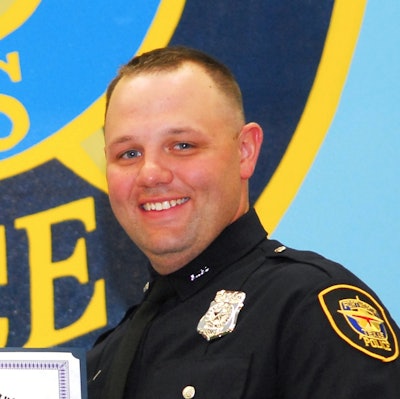 Fort Worth, TX, Officer Matt Pearce had his body camera on and rolling when he was "ambushed" by a wanted suspect as he was climbing over a barbed-wire fence on Tuesday, Cpl. Tracey Knight told News 8 Thursday.
The department has no plans to release the video at this time. However, Cpl. Knight did walk the local TV station through what can be seen and heard on it.
According to Knight, the video shows Pearce engaging in a gun battle with Ed Russell McIver, Sr., who fired first at the officer.
Pearce was knocked down with gunshot wounds but Cpl. Knight says McIver Sr. continued to fire on the downed officer.
Another officer arrived on scene and shot McIver, Sr., who was killed in the fight.
Meanwhile, McIver's son, Ed Russell McIver, Jr. was still on the loose and potentially dangerous.
McIver, Jr. was found a short time later after an intense manhunt. A rifle was found in the area near him, though he was not holding the weapon. He is charged with attempted capital murder, evading arrest and unlawful carrying of a weapon. His bond was set at more than $2 million.
Pearce was flown to John Peter Smith Hospital in critical condition with multiple gunshot wounds. He remains sedated in critical condition Thursday, though Fort Worth police say doctors are considering waking him up soon.
The officer's family said earlier this week Pearce was shot seven times. Cpl. Knight said doctors actually do not currently know how many times the officer was shot.