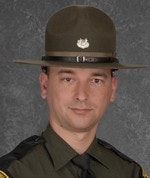 West Virginia State Police say a trooper had to stab a man who tried to choke and drown the officer in a Randolph County creek.
Troopers said the incident started Wednesday afternoon when Trooper First Class J.J. Cornelius of the Elkins detachment was attempting to serve an arrest warrant for Nathaniel Wegman, 27, at Pond Creek, commonly known as Mill Creek.
Wegman, who was wanted on a burglary charge in Indiana, fled on foot. Cornelius was able to catch up with him in a stream, also known as Mill Creek. Wegman resisted arrested and assaulted Cornelius, causing him to fall and hit his head on the creek bottom, the release said.
Wegman then tried to choke and drown Cornelius, State Police said. The trooper couldn't reach his gun because he was pinned to the ground, but was able to get to his knife, which was used to stop the assault, the release said.
Wegman is now in custody in the hospital recovering from stab wounds, WCHS TV reports.