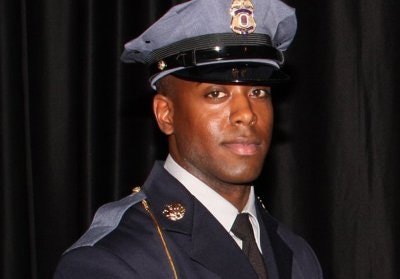 An undercover narcotics officer for Prince George's County, MD, who came upon a gun battle Sunday outside a station was shot by a fellow officer who mistook him for an assailant, according to the department's chief.
The officer who fired the fatal shot did so deliberately but without malice, Police Chief Henry P. Stawinski III said Wednesday at a news conference announcing the latest findings in the case.
"I believe that another police officer fired at an armed individual who they perceived to be a threat to them," Stawinski said.
Stawinski did not name the officer who shot officer Jacai Colson, 28, adding that investigators had not yet interviewed him. Colson — who was in street clothes at the time — was one of four officers who fired their weapons as they tried to stop the shooting, the Washington Post reports.
Colson had just arrived at the police station in Landover, Md., when Michael DeAndre Ford, 22, launched a planned and "unprovoked" attack on the building and officers, police said. Ford enlisted his younger brothers — Malik Ford, 21, and Elijah Ford, 18 — to drive him to the scene and callously record the shootout and ambush on their cellphones, police said. Michael Ford shot randomly at cars and an ambulance in addition to targeting officers, police said. While weapons were being discharged, Colson was fatally wounded by friendly fire.