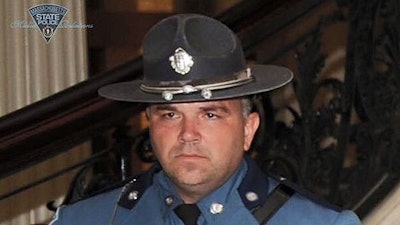 Flags across Massachusetts flew at half-staff Thursday in honor of State Trooper Thomas Clardy who was killed in the line of duty.
Clardy had stopped a Chevy Tahoe on the Massachusetts Turnpike in Charlton Wednesday afternoon when he was struck and killed by a Nissan Maxima.
Clardy, who was in his SUV at the time of the crash, was rushed to UMass Memorial Medical Center in Worcester where he died.
The Nissan driver, 30-year-old David Njuguna of Webster, is still at UMass Memorial with serious injuries. He's charged with negligent operation of a motor vehicle and failure to stay within marked lanes at this point in the investigation, WBZ reports.