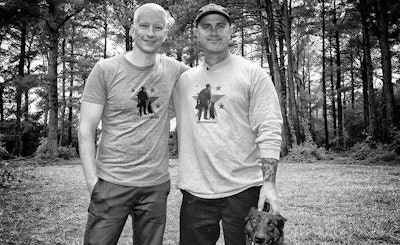 Three days after a Norfolk, VA, police dog was shot and killed in a standoff with a man who'd barricaded himself in his home, CNN anchor Anderson Cooper has donated enough money to outfit the Police Department's entire K-9 unit with ballistic vests, similar to those used by military dog handlers, reports the Virginian-Pilot.
Sources familiar with the incident said it's likely the dog, Krijger, would have survived the shooting Monday morning had it been wearing a light-weight Kevlar vest.
Retired SEAL Jimmy Hatch, a former military dog handler who runs the Norfolk-based charity Spike's K9 Fund, dedicated to helping military and police dogs, launched a campaign in Krijger's name to raise money to buy bulletproof and stab-resistant vests, which cost about $2,200 apiece.
Cooper had interviewed Hatch last year about the night in 2009 when he was wounded on a mission to rescue Sgt. Bowe Bergdahl in Afghanistan. Cooper saw a social media post about Hatch's new fundraising effort this week and decided to donate the speaking fee from his upcoming "Norfolk Forum" lecture at Chrysler Hall.