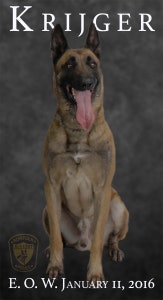 A Norfolk, VA, police K-9 was shot and killed during an officer-involved shooting Sunday night.
Police say shortly before 6 p.m., officers were called to a residential area after receiving reports of a man with a weapon and a domestic dispute between a husband and wife.
According to investigators, the woman managed to escape the home and the man barricaded himself inside the house.
Negotiators were called to the scene to reason with the man, 58-year-old Keith Richardson, but police say he refused to leave the home
Police say Richardson came out of the house after several hours of unsuccessful negotiations, armed with a handgun. Norfolk Police Dog Krijger, a 4-year-old Belgian Malinois, was used to attempt to apprehend Richardson.
Richardson reportedly shot and killed Krijger, before he raised his threat to officers at the scene. An officer shot Richardson. Richardson is in critical condition at a hospital — and remains in police custody, WAVY TV reports.