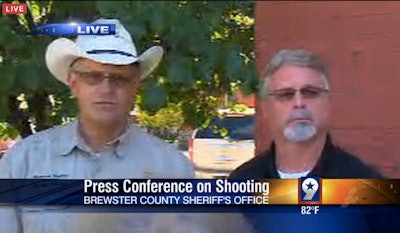 A 14-year-old female student died of what appears to be a self-inflicted gunshot wound at Alpine High School in Alpine, TX, according to Brewster County Sheriff Ronnie Dodson.
The shooter - a female student at the school - turned the gun on herself after shooting another student in the lower extremities, Dodson told radio station KVLF. It is not confirmed if the injured student is male or female, but is at Big Bend Regional Medical Center. No names have been released at this time.
A federal officer was injured when another officer's gun discharged and has been taken to the hospital.
Sheriff Ronny Dodson with the Brewster County Sheriff's Office said they recovered a semi-automatic pistol next to the female student shooter's body. He also said they found plenty of ammunition but didn't say how much.
Alpine police took the call about 9:25 a.m. CT, and the sheriff's department was first on the scene, News West 9 reports. Dodson said that the initial investigation indicates about five shots were fired in the school.