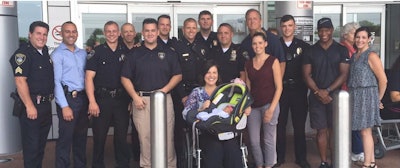 The wife of Summit, NJ, police Detective Matthew Tarentino, who died in a car crash as he was driving to work in May, recently gave birth to their daughter, the department announced Thursday.
Tarentino's wife, Victoria, gave birth to Anastasia Catherine at Overlook Medical Center in Summit, police said.
"Mom and baby are doing great!" the police department said on Facebook. "Proud big brothers Robbie and Ray are eager for their little sister to start playing with them!"
Tarentino was killed in late May in a three-car wreck at milepost 33 on Route 78, where there are no guardrails or trees separating the lanes of the busy highway, reports NJ.com.
He was the community D.A.R.E. program officer for the town and was scheduled to attend a school event on the day of the crash.