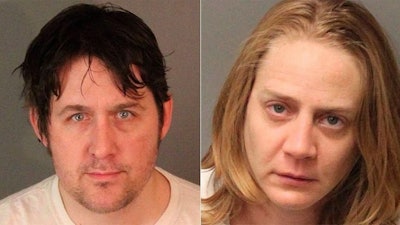 A California couple were charged on Tuesday after they allegedly used a drone to deliver drugs to customers while a 9-year-old girl lived in their drug-littered home, police said.
The pair, Benjamin Paul Baldassarre, 39, and Ashley Lauren Carroll, 31, were charged with possession of controlled substances for sale, child endangerment and possession of drug paraphernalia, City News Service reported. Carroll pleaded not guilty to the charges and was held on $100,000 bail. Baldassarre was expected to be arraigned on Wednesday, reports Fox News.
Police began investigating the couple's Orangecrest neighborhood in Riverside earlier this month after someone reported drugs being dropped to customers from a drone. Last Thursday, police served a search warrant at the pair's house, where they found "uncapped hypodermic syringes" and unpacked powders, believed to be fentanyl, littering a bedroom.
"Detectives also located methamphetamine and suspected LSD-laced candies, as well as the drone used for the delivery of the illegal narcotics," police wrote on Facebook.