A district attorney ruled Monday that state police acted properly a year ago when they shot and killed a man they suspected of murdering Trooper Landon Weaver in a rural area of central Pennsylvania.
Huntingdon County District Attorney David Smith issued his decision in the Dec. 31 death in Hesston of 32-year-old Jason Robison, reports the Associated Press.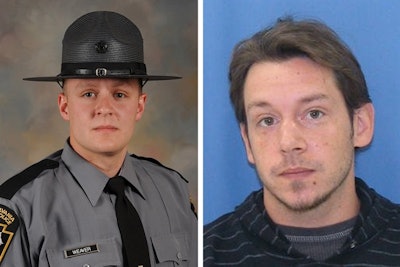 "Troopers at the scene ordered Robison numerous times to drop his gun, which he refused to do," Smith wrote. "Robison moved as if to advance from the camper while still holding the pistol in his hand. After Robison began to move, members of the state police fired shots at Robison, who was struck in the head, torso, arms and legs."
Related: PA Trooper Killed Responding Alone to Domestic Call
A .32-caliber Beretta pistol was recovered beside Robison's body. It contained eight live rounds, and there were two other bullets in the pocket of his jacket.
The prosecutor deemed the killing as justified and said authorities will not release the names of troopers involved.