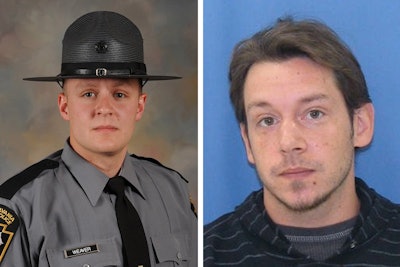 Pennsylvania Trooper Landon Weaver, 23, responded alone to a domestic call Friday night before he was shot and killed by a man who had reportedly violated a protection from abuse order, Pennsylvania State Police officials said Saturday.
"He was alone" when he went to the home of Sherry Robison in Juniata Township, said Capt. David Cain, the commanding officer of Weaver's Troop G. Inside that house was Robison's son, 32-year-old Jason Michael Robison. Somehow, Cain said, the man obtained a firearm while he was being interviewed by the trooper, reports the Philadelphia Inquirer.
"Troop G members responded to the scene and realized Trooper Weaver needed immediate medical attention," Cain said. "They tactically removed Trooper Weaver from the residence," he added.
Weaver, a newlywed and dean's list criminology major at Indiana University of Pennsylvania, died of his gunshot wounds. Sixteen hours later -- after a central Pennsylvania manhunt that involved nearly 100 troopers, FBI, and other law enforcement personnel -- the alleged killer was found holed up in a house trailer near his mother's home.
About 10 a.m., Cain said the armed Hesston man was shot and killed by troopers who were "faced with a deadly situation" when Robison "failed to obey commands and made an overt threat toward the troopers."