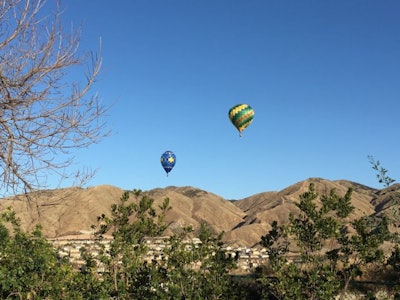 San Bernardino County (CA) Sheriff's deputies forced two hot air balloon pilots to land when authorities began to receive numerous 911 calls about the brightly colored balloons coming dangerously close to rooftops and striking the tops of trees in a Yucaipa neighborhood Tuesday morning.
The calls started to come into sheriff's dispatch shortly before 8 a.m. reporting the two balloons were flying very low and may have crashed into homes, a sheriff's office statement said.
Deputies went to the neighborhood and spotted the balloons — one green, the other blue — flying above the golf course, "at times coming within 5 feet of rooftops and hitting trees," officials said.
Deputies were able to get the pilots' attention and asked them to land immediately. One balloon landed safely in a high school baseball field. The second balloon was able to land in an orange grove at a private home in Mentone, officials said.
Deputies identified and spoke to the pilots and authorities will be forwarding a report to the Federal Aviation Administration for further review of any possible violations, sheriff's officials told the Redlands Daily Facts.