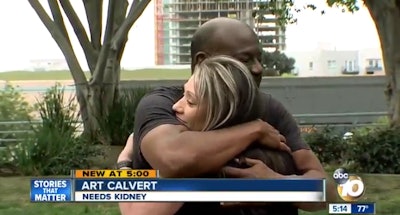 VIDEO: CA Dispatcher Donates Kidney to Officer
San Diego police Officer Art Calvert will soon receive a kidney transplant, thanks to co-worker and dispatcher Debra Ballard, who has offered to donate her kidney.
If everything goes as planned, the transplant surgery is scheduled for this week, reports KGTV.
After two previous transplants, in 2014, Calvert's health took a turn and he was once again on dialysis and hoping for a miracle.
A few months ago, Ballard decided to get tested and found she was a perfect match. Ballard said, "How could I not save someone's life if I know that I can, especially someone that I've been friends with for so long."
Calvert said he was stunned someone would do such a thing and is incredibly grateful he has the chance at a healthier life.