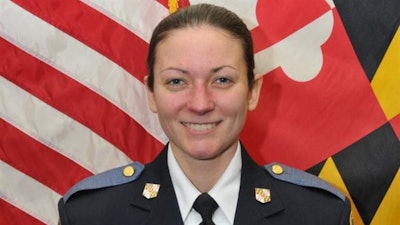 Three days before accused cop killer Dawnta Harris allegedly ran over and killed a Baltimore County police officer, juvenile caseworkers recommended house arrest for the 16-year-old as he awaited sentencing for car theft.
Now state officials are investigating that recommendation by the Department of Juvenile Services.
The West Baltimore teen had been convicted of stealing one car and accused of stealing three others in recent months, though two of the cases were dropped, according to court records obtained by The Baltimore Sun. The teen also missed court hearings and left an unsecure juvenile center in Montgomery County, officials said.
Jay Cleary, chief of staff for the Department of Juvenile Services, says Harris should not have been a candidate for house arrest after his most recent violations.
Harris had fled home detention when he allegedly struck and killed Baltimore County Police Officer Amy Caprio with a stolen Jeep last week in Perry Hall, MD. Police say Harris was waiting in the Jeep while three other teenagers were burglarizing homes in the neighborhood when Caprio arrived.
Police said Caprio opened fire before Harris ran her over with the Jeep. Caprio was pronounced dead shortly after at an area hospital.