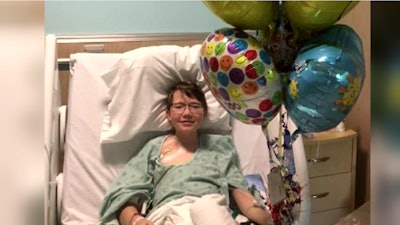 VIDEO: Virginia Officer Donates Kidney to Boy, Son of Firefighter
A 13-year-old boy is getting another chance at life thanks to a police officer who donated her kidney to him.
Ian Dennis was diagnosed with Stage 5 kidney failure last May. "His kidneys were very small and as his body grew it outgrew the function of the kidney. So, he was slowly getting sicker his whole life," Chris Dennis, a veteran of the Chesapeake Fire Department and Ian's dad, told WAVY.
Ian's parents weren't a match, but after posting on Facebook looking for a kidney donor, they found one in Suffolk (VA) PD Officer Josie Hall. She was the only one of 40 people tested who was a match for Ian, reports WSET.
"I thought about my three kids. If it was my kid, I would be begging and pleading for someone to do the process," Hall said. "Unless the doctor told me no, 100 percent I was doing it. There wasn't going to be anything stopping me."
The operation was done on March 27, 2018.
Ian said he now feels more energetic and not as tired and Hall said the two will always share a strong bond.