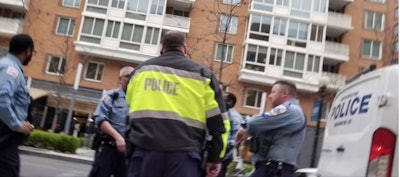 VIDEO: Police Impersonator Handcuffs Real Officer in DC Store
A man impersonating a police officer handcuffed a real officer at a Whole Foods store in Washington, D.C., charging documents say.
Officers responded to the store's Foggy Bottom location Monday after reports that someone was disturbing customers in the self-checkout lane by waving a pair of handcuffs and threatening to cuff people.
The man became combative when real officers tried to subdue him, charging documents say.
The suspect clamped a cuff tightly onto one officer's right wrist, NBC Washington reports.
The officers were able to arrest 47-year-old Evan Jerrold Graham, from Maryland, and found a second set of handcuffs and a single hollow-point bullet in his pants, police said.