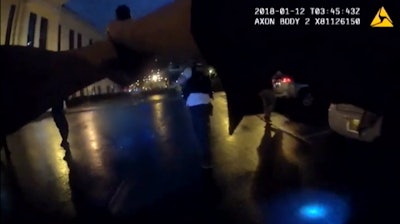 VIDEO: Footage of Charlotte Officers Ambushed in HQ Parking Lot Released
Body camera video that shows what happened when a murder suspect ambushed police officers in Charlotte January 11 was released to reporters Tuesday.
Jonathan Bennett died when he traded gunfire with officers outside Charlotte-Mecklenburg Police headquarters.
The body camera video from several angles shows officers duck for cover when Bennett started shooting and then they quickly return firem WSOC TV reports.
He began shooting at officers outside headquarters around 10:45 p.m. Charlotte-Mecklenburg police officer Casey Shue was wounded in the leg.
Mecklenburg County District Attorney Spencer Merriweather said last week that he has reviewed the incident and found that the officers were justified in their use of force and would not be seeking charges against them.