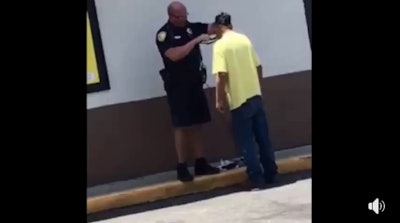 Officer Tony Carlson of the Tallahassee (FL) Police Department took some time over the weekend to shave a homeless man's beard so the man could apply for a job at a local McDonald's restaurant.
The moment was captured on cell phone video, and posted to Facebook. The video has gone viral, with the post garnering nearly a hundred comments — all of them positive and supportive of TPD.
"Just wanted to say Thank You to Officer Tony Carlson on being a great police officer and even better human being," said one comment.
"One of the many reasons I love living in Tallahassee," said another.
According to WKRG-TV, the woman who recorded the video approached the officer when he was done and learned that Officer Carlson had been present in the McDonald's when an employee told the man that he wouldn't be hired unless he shaved his beard.
Carlson retrieved some clippers, and performed the sidewalk barber-shop shave job.