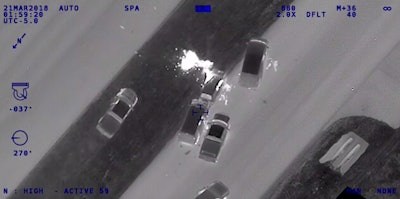 VIDEO: Texas DPS Release Aerial Video of Pursuit that Ended in Gunfight, Explosion"
The Texas Department of Public Safety posted a video to YouTube that had been taken from a helicopter surveilling Mark Conditt, the man suspected of a series of bombings that killed two people and injured five others around Austin.
The video shows police vehicles closing in on the 24-year-old suspect along a highway, and as they approached to make an arrest, a bomb detonating inside the vehicle, killing Conditt.
No officers were seriously injured by the blast, according to Texas DPS.