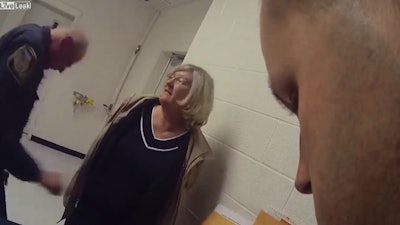 VIDEO: Maryland Prosecutor Arrested for DUI Says, "This is Why People Hate the Police""
A former prosecutor with the Baltimore State's Attorney's Office who was arrested for drunk driving in 2017 can be seen in recently released body-worn camera footage berating the arresting officer, saying, "This is why people hate the police."
According to video obtained by the Baltimore Sun, Mason was taken into custody and transported to the Towson precinct for processing, where an officer asked her, "Have you got anything on you you're not supposed to have?"
She replied, "Probably just drugs and guns."
Following a search, officers concluded that Mason had neither guns nor drugs on her person.
When the officer tells Mason he has to read something to her, he asks if she understands the English language.
"No," Mason replied.
"What do you understand?" the officer asked.
"I speak Spanish," she replied, indicating that she wanted the officer to read the statement in Spanish.
Later, the officer asked what she does for a living.
The officer asked, "Who do you work for? Who's your boss?"
"Marilyn Mosby," she said.
Mason's attorney said on Wednesday his client was fired after media inquiries about her arrest, but that his client had previously disclosed the arrest to the state's attorney's office, according to LiveLeak.