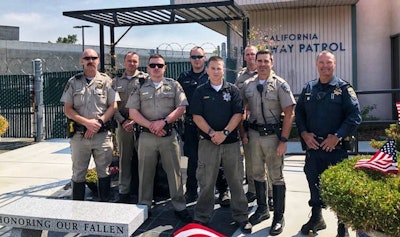 The driver who struck and badly injured a California Highway Patrol Officer has been found guilty of felony DUI and sentenced to probation, according to the CHP Contra Costa Facebook page.
Officer Martin Lendway was struck by the DUI driver in January. He suffered major injuries, including two broken legs. Lendway has subsequently undergone multiple surgeries but is "doing very well in his recovery process" the CHP said, and it is hoped that by the end of the year he will be back on his motorcycle.
In the incident, 52-year-old Tammy Peggy Louise Walker had been weaving her 2006 Chevrolet Trailblazer through and around traffic when she struck Lendway's motorcycle and then then crashed her vehicle into a Ford F-150 pickup truck. That truck ended up on top of Lendway, crushing both of his legs
The CHP said in its Facebook post, "Many of us accompanied Martin to his numerous trial dates and court hearings during this process to show the meaning of support and CHP family. Hopefully nobody else will ever have to go through this experience. Sadly, that is highly unlikely due to the number of DUI-related collisions nationwide that cause major life changing injuries. Many of those responsible for those tragic collisions are repeat DUI offenders who repeat the same poor behavior. Please never drive impaired and make better decisions before getting behind the wheel."