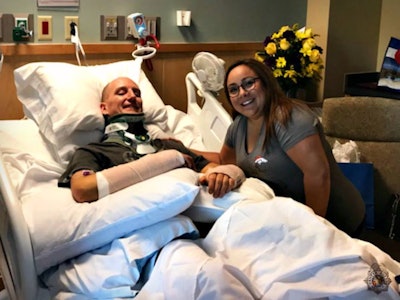 The Denver Police Department 911 dispatcher who came to the aid of a Lakewood, CO, police officer who was severely injured in a motorcycle crash was recently reunited with the man she helped.
Police said Erica Limon — a Denver 911 Communications Center dispatcher and certified EMT — was on her way home after picking up her kids from school when she saw debris flying from a crash. She stopped, told her kids to stay in the car, and ran to the scene.
There, she found Lakewood Police Officer Mark O'Donnell — who had been on duty, riding his LPD motorcycle — lying on the ground, moving and breathing, but seriously injured, according to Fox-31 Denver.
"Erica grabbed for the officer's radio and said, 'Officer down, officer down. … Wadsworth and Colfax. … Colfax and Wadsworth. We need EMS Code 10'," police said on their Facebook page.
O'Donnell has since said that he's certain that he is alive because of Limon's quick thinking and applied knowledge during this critical incident.
"Once Erica got on the air, it all became clear and they were able to send units to the correct location," DPD said on Facebook. "Erica also remained on-scene, preventing others from moving the officer, providing him comfort and keeping him alert until additional units and EMS were also with him."
DPD added, "Erica has always been someone who does the most-right-thing for our officers in Denver, and that attitude carried over during this event, where she provided critical information and comfort to the right people."