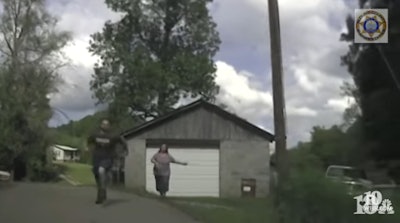 A Blount County, TN, deputy who fatally shot a Greenback man after he advanced on the officer with an ax has been cleared and was scheduled to return to his duties last week, according to the sheriff's office. Deputy Jarred Pekala had been on administrative leave with pay since the incident on Sept. 30, reports WBIR.
"After reviewing the findings of the TBI and the BCSO investigation, the Blount County District Attorney General's Office ruled the deputy's actions were justifiable based on the circumstances, and that the deputy's actions were in compliance with Tennessee state law," a release from the sheriff's office said.
The sheriff's office said Deputy Pekala was called to the home on Emert Williams Road after a family member called dispatch and said Brian Lee Rogers, the man who was killed, was "acting erratically." Deputy Pekala's in-car video showed that as he pulled up to the home, Rogers retrieved an ax and advanced toward his patrol car. The deputy put his car in reverse and backed up to create distance between Rogers and himself.
"When he stopped, he stepped out of his patrol vehicle and issued several verbal warnings to Rogers to drop the weapon, but Rogers did not comply and continued to charge toward him with the ax," the report said.