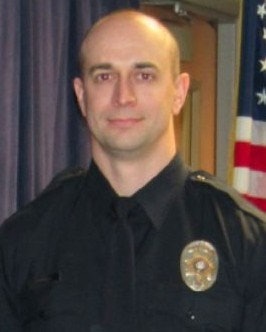 The man who was in the passenger seat when a driver struck and killed South Salt Lake Police Officer David Romrell in late November has been charged with murder and other crimes.
Jeffrey Black was charged with the first-degree felony murder, obstructing justice, robbery, attempted burglary, and failure to stop at the command of a police officer, according to the Salt Lake Tribune.
Black is suspected of being in the car driven by 31-year-old Felix Calata that struck Romrell as the two tried to flee from a South Salt Lake residence while trying to "collect a debt."
Although Black was not behind the wheel at the time of the incident, he can still face the same penalties as if he were driving if prosecutors can show the homicide was committed "incident to an act, scheme, course of conduct, or criminal episode" where a serious crime was committed.