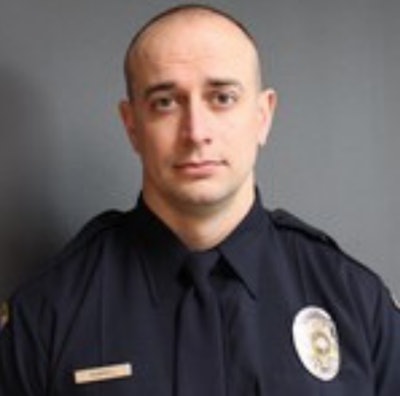 The family of Felix Calata, the man who police say ran over South Salt Lake officer David Romrell Saturday, has posted an open letter on Facebook to Romrell's widow.
Romrell died from injuries he sustained from being hit while responding to a burglary. Calata was killed by police at the scene, KUTV reports.
The letter partially reads:
"An open letter to Mrs. Romrell, from the ex brother and sister in law of the man who killed your husband…
Saturday night we went to bed just as any other night, when suddenly the shrieks, screams and cries of our sister tore through our peaceful home. "Felix, is dead!" She screamed! We didn't know the details yet of what had happened but we knew Felix, had been on a downward spiral for a long time now. We knew he wasn't the same person who started dating my sister, 12 years ago who was romantic and funny.
After many run ins with the law and let downs, my sister decided to leave her husband and take their two children away to Texas so they'd be safe. She hasn't heard from him in months and when she got that phone call in the middle of the night her heart broke for her children, Only 6 and 10 years old.
In contrast, soon after we heard about your husband. A good man who has served his country. Who was badly injured and fighting for his life. Immediately, our whole family's energy focused on your husband and your family. We prayed for his life. That God may spare him from this senseless act. It was to no avail and your husband, a man who had a brand new baby at home, Who, went into work that day just as he did any other day, never came back.
My name is Manuel Alejandro Lopez and David Romrell is my brother in arms. I, too am a Marine veteran and it hurt me to see a brother fall in such a way. Without meaning to politicize this ordeal, we want to reach out and let you know, we are with you. We know what Felix, did was inexcusable. His mental illness took over and we never got him back. Felix's, kids are here in the room as I write this and they are also, innocent lives that have forever been changed. We want you and your baby to know, our sister and our family will make sure to raise them, knowing that your husband, was the "good guy!" Your husband, died a HERO! Our niece and nephew don't have to know the horrendous things their father has done but they WILL honor your husband.
We are all heartbroken by this and we are hurting too. If there is anything you may need from us to help you find peace, please reach out. Your precious baby doesn't deserve to be left without a father. We are very sorry for your loss.
As this Thanksgiving weekend wraps up, we hope everyone remains thankful for their families, for our police force and our military!"