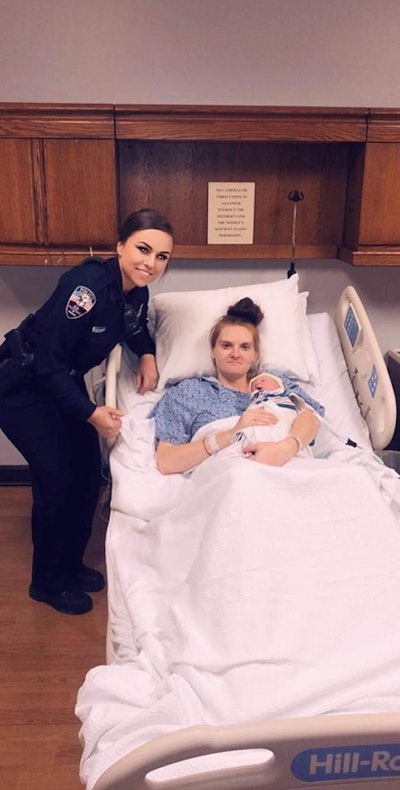 An officer with the Dickson (TN) Police Department performed some roadside heroics as she assisted a woman in labor in giving birth to a baby girl.
Bridgette Crumley—along with her husband, three-year-old son, and mother-in-law—were all packed in a car early Tuesday morning when they realized they weren't going to make it to the hospital in time for delivery.
Officer Sierra Reprogal responded to the Crumley family's frantic 911 call just as the baby was "crowning"—that moment when the infant's head begins to appear.
By the time EMS arrived, Officer Reprogal had already delivered the child and had the baby safely wrapped in her mother's arms.
"Congratulations to Officer Sierra Reprogal for an outstanding job," the department said on its Facebook page. "Every call or stop is different and you never know what the next second holds. This Officer delivered a baby on the side of the road. This goes to show that an officer's job is very stressful. One minute, you may be holding the hand of someone who is taking their last breath.....or, on this day with Officer Reprogal, you may be watching a new life take its first breath. Wow! Think about that for a moment."
Reprogal said on her Facebook page, "Literally one of the best things I've ever done or been a part of."
This is the second incident reported this week of an officer delivering a baby at roadside. Sergeant Brian Maynard with the North Carolina State Highway Patrol delivered a baby on Saturday night near Raleigh.