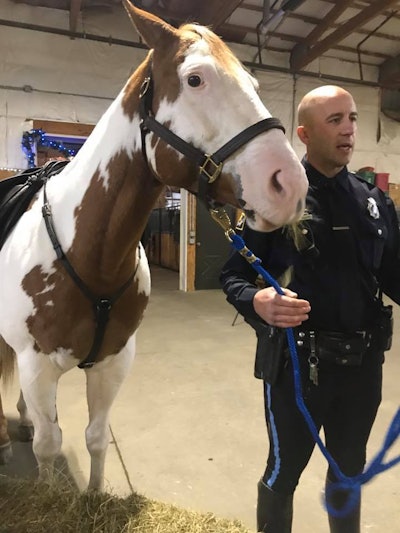 Hector Orozco—the husband of slain Omaha Police Officer Kerrie Orozco—has donated the family's horse to the Omaha Police Department's Mounted Patrol Unit.
The horse has been renamed Orozco as it graduated from a year of training with the department.
Officers in the mounted unit competed to work with Orozco. Eventually, Officer Nate Waller won the honor.
The department posted on its Facebook page, "It's been three years since we lost Officer Kerrie Orozco. Her legacy lives on through PACE—Police Athletics for Community Engagement—community events and now on patrol. 'Orozco,' the newest member of our Mounted Patrol graduated today after a year of training to become part of our team."
The department added further that "Orozco's trainers describe him as an attention lover and very affectionate. They even joked, saying if he could, he would spend his day on the couch watching TV with you."
Kerrie Orozco was fatally shot in May 2015 as she and other members of the Metro Area Fugitive Task Force attempted to serve a warrant on a man wanted for a shooting in September 2014. She was on her last scheduled day of police duty before taking maternity leave.
Detective Orozco had served with the Omaha Police Department for seven years.